Time Management is one of the most important administrative tasks for a teacher. We know that teaching is a highly rewarding profession, yet sometimes managing its various tasks can get very demanding – especially when it comes to planning and creating schedules for classes and tests. If you are a teacher still using manual scheduling methods and struggling with collaboration with your peers and students, then it's the right time for you to switch to digital & consider using Class Scheduling Software.
We, at TutorShell, provide one of the best class scheduling Software that will allow you to schedule classes and tests straight from our Integrated dashboard. Before we find out more about the features of our product, let's dive into the top reasons why you need Online Class Scheduling Software.
Why do you need Class Scheduling Software?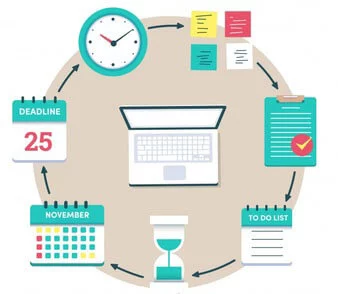 As teachers, we know the kind of planning and effort that goes into preparing study materials. Along with it, the administrative tasks of a teacher extend to effective planning and communication. To avoid getting overwhelmed in this process, making a switch to an Online Class Scheduling System is essential. Let's list down some more reasons why you need a class scheduling system.
1. Better Organization of Time
With the help of Class Scheduling Software, teachers can effectively organize and arrange class schedules, free periods, and breaks while also considering their own availability in each slot. Before the introduction of online software, these activities were done by hand and hence, prone to errors and oversights. By taking advantage of technology, teachers don't feel burned out and instead effectively organize their schedules with better control in their hands.
2. Allows Teachers and Students to Plan Ahead
One of the biggest advantages of having schedules for classes and tests is that it gives teachers more time to plan and prepare the lessons without any gaps in the curriculum. This also helps students to know what tests are coming up and begin preparing ahead of time.
Besides, the system allows easy creation, editing, and deletion of class and test schedules. This feature helps in accommodating any minor changes in schedules due to unexpected absences of teachers.
3. Reduce Conflict
Creating class schedules manually can be taxing with many factors to consider. Using Online Class Scheduling software can remove the uncertainty of errors – especially conflicts that might arise when you overbook a teacher or a class. This software comes along with a calendar which allows teachers to visualize the availability and create schedules accordingly.
4. Allows Tracking
Using a centralized dashboard allows you to view and create schedules that can be beneficial not only to Teachers and students but also to the concerned Departments. Scheduling software provides an overall understanding of what is happening in each class like the number of classes per week. It allows the higher authorities to keep track of the lessons being covered and make regular checks to see whether it is going as per the schedule.
5. Save Time
The most practical advantage of having online scheduling software is that it saves a significant amount of time. With dedicated time for each activity, it becomes easier to handle operational activities like management of timetables, creating class schedules, planning tests periodically, creating study material, collaborating with peers, and communicating with students and their families. Through time management, these tasks can be completed efficiently, resulting in considerable time savings.
Why TutorShell?
1. Built-in Calendar
TutorShell's Class Scheduling software comes with a comprehensive calendar that allows you to supervise classes and tests for students. It provides a way for teachers to create schedules even before a week or a month. Any changes done by teachers on the calendar get easily reflected in the system; which can be easily accessed by Students.
2. Integration with Zoom
Through TutorShell's Online Class Scheduling, you can easily create custom schedules for each subject and link them with zoom. Teachers can either use an existing Zoom link or auto-generate a zoom link from the dashboard. Students can find the zoom link along with the class details within their dashboard and get into the class with a single click.
3. Dashboard for Teachers and Students
Having a schedule in place ahead of time helps teachers and students stay on track with their goals. Having a standard dashboard between teachers and students facilitates easy communication about any updates in schedules.
Key Takeaways
Online Class Scheduling Software makes the scheduling of classes and tests faster and more efficient.
Since these administrative tasks can be time-consuming and often error-prone, using scheduling software can automate mundane tasks and save time.
Using Class Scheduling Software from TutorShell, teachers can create class schedules for each subject and visualize better with the help of the built-in calendar.
The software also allows you to auto-generate zoom links and send them to students along with the class details.
Taking advantage of our software can reduce burnout for teachers and helps them focus on important tasks without missing out on any.